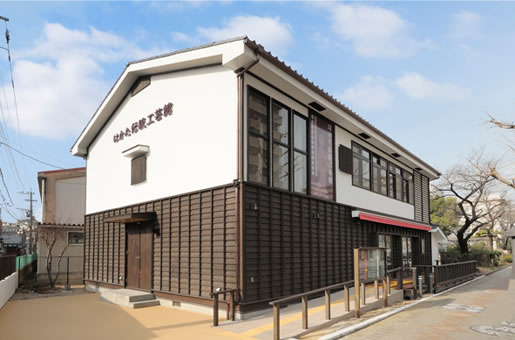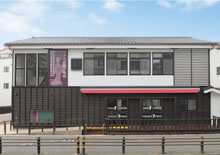 ---
Tour Hakata's Traditional Arts and Crafts
The most famous of Fukuoka's traditional arts and crafts are "Hakata Ori" (woven textile) and "Hakata Ningyo" (dolls),passed down through the ages by their craftsmen.
Here at the "HAKATA TRADITIONAL CRAFT AND DESIGN MUSEUM," we hope to introduce you to and make you feel close to the amazing craft items of Fukuoka and Hakata and their respective artisanal knowledge, which has been passed down for centuries.
Hakata Traditional Craft Gallery: Depicting the traditional crafts of a historic area, their connection to the world, and their future.
Please stop by along your tour, or as a pleasant detour.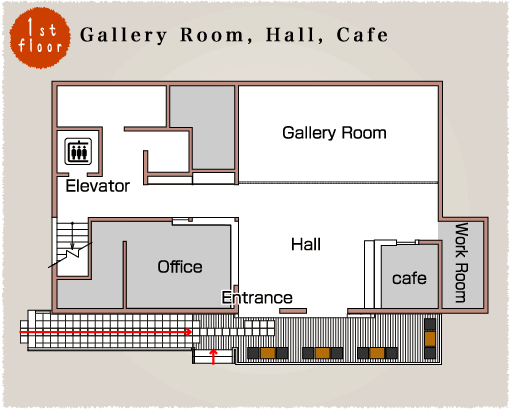 In the Hall you can discover all sorts of information regarding traditional arts and crafts in Fukuoka. Various exhibitions,workshops and lectures are held in the Gallery Room. The "Cafe Corner" is a nice place to stop by for abreak while visiting.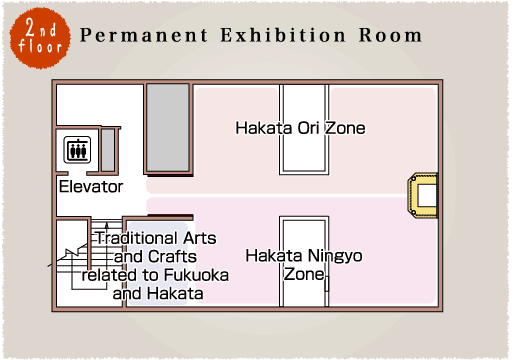 This room mainly focuses on "Hakata Ori" (woven textile) and "Hakata Ningyo" (dolls), explaining their history and manufacturing methods, and displaying historically relevant pieces and items suited for modern living. "Hakata Magemono" and "Hakata Koma" (top) are also exhibited.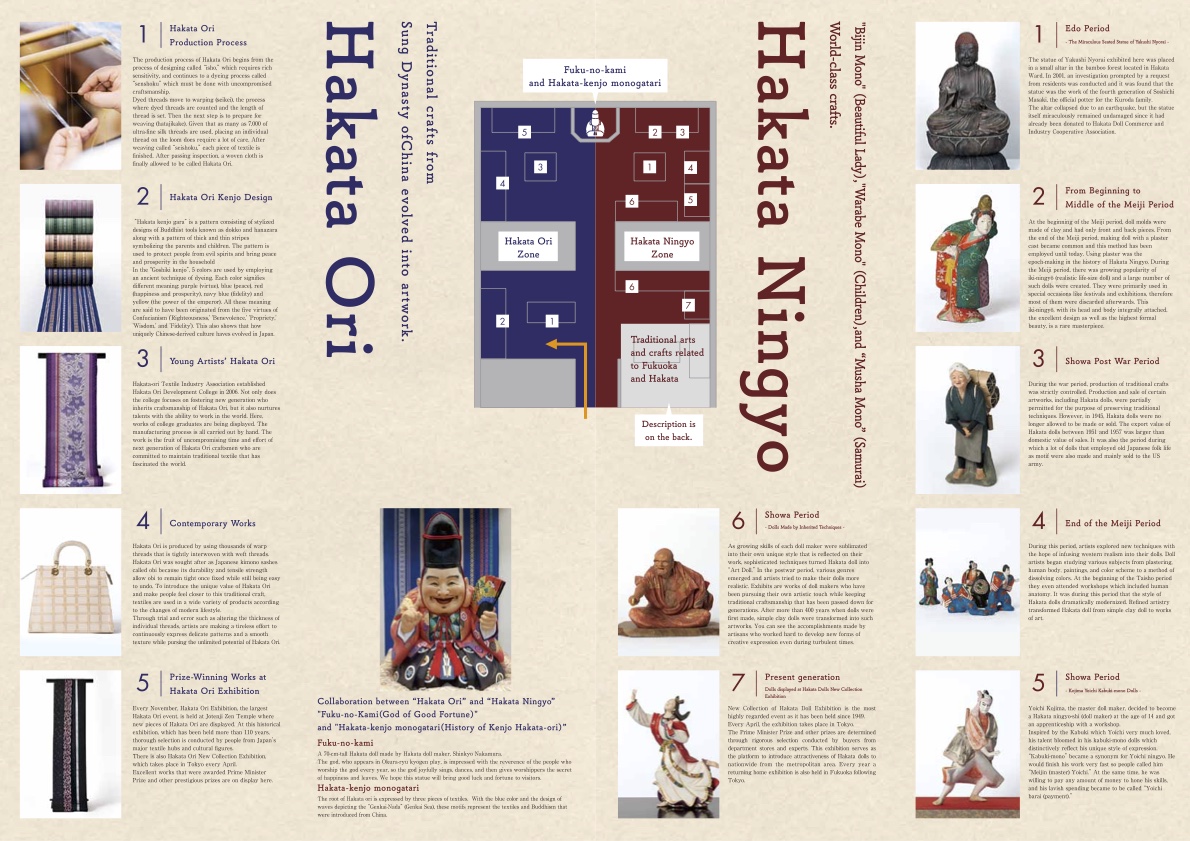 [Download: Permanent Exhibition Room (PDF)]

This information is as of March, 2011.
Access
[ Subway ]
5 min. walk from Gion and Nakasu-Kawabata Stations
[ Bus ]
5 min. walk from Kawabata-machi / Hakataza-mae stop
3 min. walk from Canal City Hakata-mae stop

Opening Hours
10 a.m. ‒ 6 p.m. (must enter by 5:30 p.m.)
Days Closed
Every Wednesday (if a holiday, the following day) December 29th~31st
Entrance Fee
Free
HAKATA TRADITIONAL CRAFT AND DESIGN MUSEUM
6-1, Kamikawabata-machi, Hakata-ku, Fukuoka City 812-0026
(next to Kushida Shrine)
■TEL 092-409-5450
■FAX 092-409-5460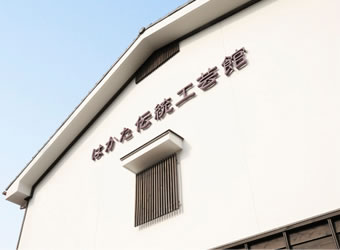 ---

Large size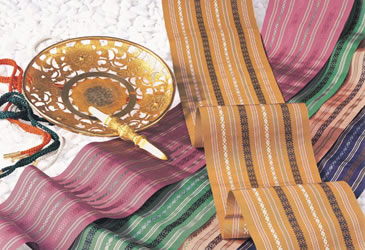 Approximately 770 years ago, a young Hakata merchant named Mitsuda Yasoemon visited China with a monk (later known as Shoichi Kokushi) and returned having learned techniques in weaving. This technique was passed down through the generations to the present. Improvements were made as time continued, and because Kuroda Nagamasa offered this textile to the feudal government of the Edo period, people began to call it "Kenjo (offering) Hakata Ori." Not only obi sashes, but various items such as dresses and bags are made using Hakata Ori textiles these days.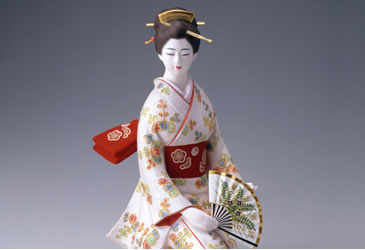 When Kuroda Nagamasa took over the Chikuzen area in 1600, he gathered together many artisans, and it is said that the unglazed dolls created by these artisans became the base for the current Hakata Ningyo. During the Meiji era, these dolls became world-renowned, receiving high commendations in various international exhibitions, and are now one of Japan's most famous traditional arts. Currently, many traditional Japanese style houses as well as modern western style houses display Hakata Ningyo to create a comfortable space.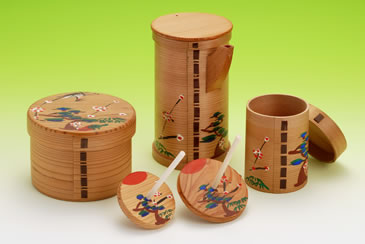 Magemono incorporates the warmth of wood into tea ceremony utensils, rice bins, lunch boxes and other housewares, and has been loved for generations.
There are several theories on the origin of Hakata Magemono, the most probable being that it became popular during the Edo period. It has a long tradition of being offered as a ritual article to Hakozaki Shrine.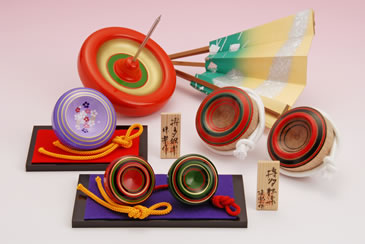 The first top in Japan to have an iron axle.
Bamboo tops, called tou goma, were brought to Japan from China 1300 years ago. In the late 17th century, the Hakata Koma, with a wooden base and an iron axle, was first made. The art has been passed down through the trinity of materials, spinning technique, and acrobatism.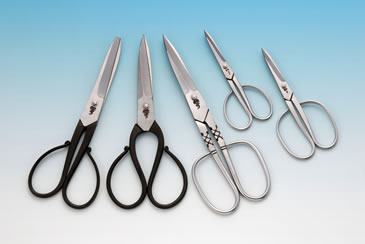 These scissors, which boast incredible sharpness, were made by enhancing Tang (China) scissors. Sha Kokumei, a Chinese immigrant, brought the first pair of scissors from China approximately 700 years ago. Towards the end of the Edo period, Yasukochi Usuke, a sword smith who lived in Hakuya-cho of Hakata, devoted himself to making these scissors and made them famous.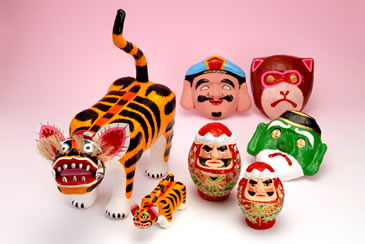 This item is a necessity for many occasions and festivals such as the Boy's Day Festival, Hakata Dontaku Festival (the Niwaka mask), and Toka Ebisu Festival (ornamental sea bream).
During the middle of the Edo period, some Hakata merchants were said to have visited Osaka to study harikomaking, and the type known as okiagari koboshi ("getting-up little priest") has been a favorite of common people since.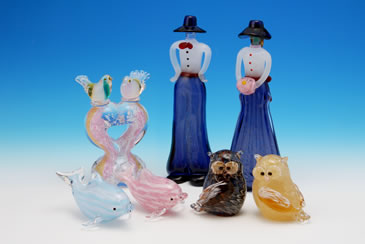 Different kinds of colored glass are layered to make beautiful artistic pieces. This craft was awarded the grand prize for Japanese glass art at the Paris World Fair 1937.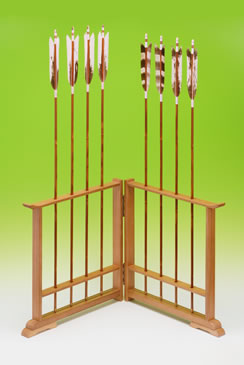 Chikuzen Hakata Ya, of which the kaburaya and hikime styles are most greatly produced, is popular for its thickness and strength. Archery has long been respected as an essential force in war. Also, arrows are used as a spiritual article for home protection, good health, and as an amulet.